Liar..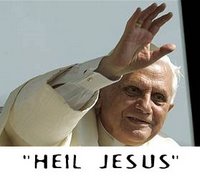 Pope says he's starting to learn job

Being leader of the world's 1.1 billion Catholics is not an easy job, but Pope Benedict says he's starting to get the hang of it.

"I am starting to learn my job," the Pope told reporters on Friday when asked how he felt 15 months after a conclave of cardinals chose him to succeed the late Pope John Paul.

The Pope was speaking at the end of a private holiday in the northern Italian mountains, from where he will move to the papal summer retreat at Castel Gandolfo, south of Rome, where he is expected to stay until late September.

"During this period I have also been working, because holidays are good only if you do some work. Without doing anything, they are not holidays," the German-born Pope said.
Learning his job?? This facist piece of shit has been pulling the strings since the lst idiot took the papal job. He still the cheek to say this? Thousands of people dying all over the world because of his policies, hundres of thousands of children left parentless because of his stance over condoms, I'd say he is doing exactly what he wants to do. His hero hitler couldn't wipe out a few races and a man in his position can easily condemn whoever he likes and he knows all his loser supporters in Catho churches will support him and also pay for his little private war on colored people and poor people all over the world. I think that it's about time someone shot this one, just like they tried to take out the last one. One life in return for saving thousands, I think thats a fair trade, don't you? Lets hope that this time, whoever tried it doesn't miss. You can be assured that thousands of children all over the world will that the shooter in their prayers every night..