Fanatics..
Sunni Clerics Appeal for Hostages' Release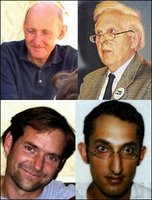 Prominent Sunni Arab clerics and residents of a Baghdad neighborhood where four kidnapped Christian humanitarian workers had aided people appealed Friday for their release a day before a deadline set by their abductors to kill them. The hostages — Tom Fox, 54, of Clear Brook, Va.; Norman Kember, 74, of London; and Canadians James Loney, 41, and Harmeet Singh Sooden, 32 — are members of the Christian Peacemaker Teams, an umbrella group for pacifist church activism and were abducted in Baghdad on Nov. 26
When i say fanatics, im not talking about the Muslims but the crazy christians who keep going over to Iraq to be killed so they can be called martyrs. Somehow I dont think a muslim country like Iraq needs to have some "I know better than you how to be holy" church activists running around waving their expensive bibles and telling everyone they know jack shit but that they need to get some serious people there who wanna solve the problems once and for all so there is no more killing and destruction. Lets face it these religious fanatics from the States love war, it gives them some excuse to try and go over there to convert the masses while pretending to be helping out. Do these people really think we give a shite if they get their selves killed by the terrorists there? After all the know what the situation is there and still choose to go poking their noses in where they obviously arent concerned. Maybe if they sent some strong Muslim leaders from many countries there the problem would be resolved alot faster..