Rio
..
Brazil governor vetoes walls around Rio slums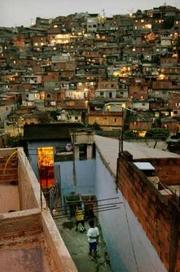 RIO DE JANEIRO, Brazil (Reuters) - Rio's state governor on Tuesday struck down plans to erect high walls between some slums and main roads in Rio de Janeiro to shield motorists from stray bullets in gang shootouts.
Such clashes occur often in the city, forcing police to close down thoroughfares and sometimes killing or wounding people in passing cars. The city has one of the highest murder rates in the world.
The Rio state legislative assembly on June 1 approved the construction of 6.6-foot (2-meter) walls along some main roads in Rio to give them cover from the slums, or favelas, where drugs gangs rule.
But in a veto published in the official newsletter on Tuesday, Gov. Rosinha Matheus said the barriers "would be a form of discrimination of good citizens who make up the infinite majority of these communities."
Over the weekend, police barricaded scenic Niemeyer Avenue, next to the famed Leblon and Ipanema beaches, for an hour because of a gun battle between two drugs gangs over control of dealing points in the Vidigal slum just above the road.
At least two suspected drug traffickers were killed in the clashes, police said. Shooting broke out again on Monday night.
Known for its sunny beaches, lush jungle-covered mountains and hedonistic Carnival bash, Rio is also infamous for crime, which is aggravated by widespread poverty.
More than 1,200 people were killed in the first three months of this year in the city. Tourists rarely get killed but are often mugged.
Crime experts and rights groups say that Rio's near 600 slums, housing about 1 million people, suffer from social exclusion and that police treat slum dwellers much worse than those living in wealthier districts.
Matheus said police were working 24 hours a day in all areas, regardless of residents' wealth.
Police have also said walls would not guarantee motorists' safety as they could not prevent robberies of drivers and passengers stuck in traffic jams.